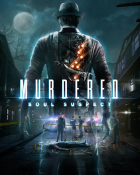 Murdered: Soul Suspect is an action-adventure game developed by Airtight Games and released on Microsoft Windows, PlayStation 3, and Xbox 360. It will be published by Square Enix and is set to be released sometime in 2014.
When Ronan O'Connor, a detective with a checkered past, gets caught up in a burglary, his life is brought to an untimely end by a brutal and relentless killer. Shocked to find himself in the afterlife, his only escape from the limbo world of 'Dusk' is to uncover the truth behind his killer, track him down and bring him to justice using new-found supernatural abilities.
Murdered: Soul Suspect Brainwaves
31st October, 0 replies

Steam's annual Halloween sale has kicked off. It features discounts on over 450 'spooky titles', including...

23rd April, 0 replies

It has finally been announced that the Xbox One will be launching in Japan later this year, on September...

28th March, 0 replies

A while back I went to London and attended a BAFTA event at the Tobacco Docks where I managed to get...
Share Murdered: Soul Suspect with others