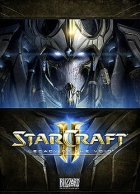 Starcraft II: Legacy of the Void is the third real-time strategy (RTS) game in the trilogy StarCraft II, developed by Blizzard Entertainment for Microsoft Windows and Mac OS. The expansion continues the story from StarCraft II: Heart of the Swarm and focuses on the Protoss campaign, featuring Zeratul.
As Sarah Kerrigan reunited the Swarm under her control, she seeks the new enemy, Amon, an ancient Xel'Naga who attempts to destroy everything using his hybrids. Zeratul is trying to unite the shattered tribes and gather allies to fight against the fallen god.
StarCraft II: Legacy of the Void Brainwaves
7th November, 0 replies

StarCraft 2: Legacy of the Void has been officially announced. In an opening BlizzCon ceremony filled...
Share StarCraft II: Legacy of the Void with others
StarCraft II: Legacy of the Void