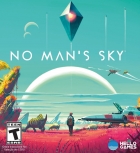 No Man's Sky is a procedurally generated open world space exploration game being developed and due to be published by Hello Games for Windows PC and PlayStation 4.
No Man's Sky allows players to explore an entirely procedurally generated universe as they like, featuring unique worlds to explore filled with their own flora and fauna, as well as space and land-based combat.
No Man's Sky Brainwaves
1st August, 0 replies

In the most recent issue of Edge, the magazine interviews Sean Murray, one of the creators of No Man's...

14th July, 0 replies

At the final day of Develop some of the smaller names in the industry took to the stage. The previous...
Share No Man's Sky with others