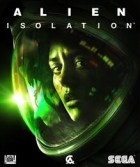 Alien: Isolation is an upcoming first person shooter/action game in the Alien series being developed by The Creative Assembly and due to be published by Sega some time in 2014. Specific platforms have yet to be announced, but it is widely expected to release on current and next generation consoles, as well as Windows PC.
Alien: Isolation stars Amanda Ripley-McClaren, daughter of Ellen Ripley, and is set on a space station. Although a first person shooter, melee weapons play a prominent role in the game as well, as does stealth gameplay and staples of the survival horror genre.
Alien: Isolation Brainwaves
9th July, 0 replies

Sega really wants us to forget about Alien: Colonial Marines as Alien: Isolation approaches its release....

6th June, 0 replies

Sega have announced their E3 line-up, but it's not exactly spectacular at this stage. Of course, there's...

31st March, 0 replies

Alien: Isolation's release date has been confirmed at EGX Rezzed. The game, which is being developed...
Share Alien: Isolation with others