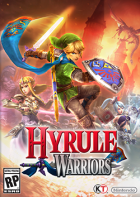 Hyrule Warriors is a collaboration between Nintendo and Tecmo Koei, which fuses elements from the iconic The Legend of Zelda and Dynasty Warriors franchises to create a hack-and-slash action game based in the land of Hyrule.
After Princess Zelda is reported to be missing after a major attack on Hyrule Castle by Wizro and Volga, Link and Impa must set off to locate her before it is too late. After encountering a mysterious woman named Shiek, the three continue their search after she informs them of another woman leading a rebelious force against the evil forces of Wizro. The three continue their journey, locating and making new allies along the way, trying to find and save the princess from certain doom.
Hyrule Warriors Brainwaves
10th June, 0 replies

Hyrule Warriors will be coming to the 3DS, a newly leaked trailer has revealed. NeoGAF user Nibel spotted...

9th January, 0 replies

Now here is a genre that everyone pays attention to. The Action/Adventure genre blends the allure of...

10th November, 1 replies

Nintendo is considering extending Amiibo support to third party developers. Nintendo licensing manager...
Share Hyrule Warriors with others