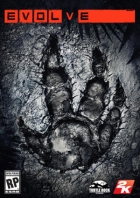 Evolve is a co-operative first-person shooter developed by Turtle Rock Studios and published by 2K Games for Microsoft Windows, PlayStation 4, and Xbox One. The game focuses on multiplayer action with four players taking on the role of humans who hunt down a player-controlled aliens that Evolves as the game progresses.
Play as the Monster to use savage abilities and an animalistic sense to kill your human enemies, or choose one of four Hunter classes (Trapper, Support, Assault, and Medic) and team up to take down the beast on the planet Shear, where flora and fauna act as an adversary to man and monster alike.
Evolve Brainwaves
2nd November, 0 replies

Given the amount of awards Evolve has already won, you could be forgiven for thinking the game had already...

9th October, 0 replies

Evolve, the upcoming shooter from Left 4 Dead creators Turtle Rock Studios, will be getting an Alpha....

9th September, 0 replies

Those of you who played and enjoyed Spec Ops: The Line probably remember it most of all for its unexpectedly...