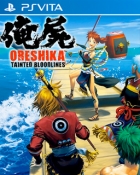 Over My Dead Body 2 is a role-playing game developed by Alfa System and released on PlayStation Vita. The games is set 100 years after its predecessor, with no direct story connections between the two games.The story is based on a cursed bloodline destined to fight against a demon.
Oreshika: Tainted Bloodlines Brainwaves
15th April, 1 replies

Three new PlayStation Vita games are on the way from Japan - Soul Sacrifice: Delta, Freedom Wars, and...
Share Oreshika: Tainted Bloodlines with others
Oreshika: Tainted Bloodlines