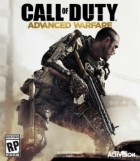 Call of Duty: Advanced Warfare is a first-person shooter game developed by Sledgehammer Games and published by Activision for Microsoft Windows, PlayStation 3, PlayStation 4, Xbox 360, and Xbox One. It is the eleventh primary installment in the Call of Duty series and the first in its own trilogy.
In 2054, a major terrorist group known as the KVA begin large scale attacks against the countries around the world. After destroying nuclear reactors belonging to these countries, the KVA quickly diminish their enemies. Due to this, PMC's, or Private Military Corporations, become the dominating fighting force. Jack Mitchell, a U.S Marine that had lost his arm during a battle, uses this chance and joins the powerful PMC, Atlas. He is now a battle ready soldier in a PMC that will execute operations for the highest paying client.
Call of Duty: Advanced Warfare Brainwaves
2nd June, 0 replies

A new trailer has been released for Call of Duty: Advanced Warfare's Supremacy DLC, titled Exo Zombies...

26th May, 0 replies

Activision has announced that the latest DLC for Call of Duty: Advanced Warfare will be out on June 2...

26th May, 0 replies

Microsoft has announced this week's Deals with Gold for Xbox Live Gold members. There are three games...
Share Call of Duty: Advanced Warfare with others
Call of Duty: Advanced Warfare