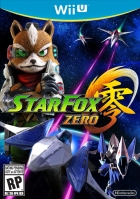 Star Fox: Zero is a side-scrolling shooter being developed and due to be published by Nintendo exclusively for the Wii U in 2016.
The latest entry in the Star Fox franchise, Star Fox Wii U will be the first Star Fox title to feature HD graphics. Producer Shigeru Miyamoto has said that this entry will feature side missions with experimental gameplay (such as on foot segments, the new mechanic for all-ranged mode, and a new hover craft vehicle).
Star Fox: Zero Brainwaves
3rd January, 0 replies

The upcoming Star Fox for Wii U will feature a cockpit view, Shigeru Miyamoto has revealed. Players will...

1st July, 0 replies

Gamers who have lived along the Star Fox franchise are finally getting another game. After such a long...
Share Star Fox: Zero with others