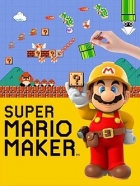 In Mario Maker players use the GamePad touch screen to easily drag and drop elements they want into their own Mario platformer levels. You can place blocks, pipes, lifts and enemies anywhere and then play through the level.
Super Mario Maker Brainwaves
25th August, 1 replies

Since May of this year, Nintendo has no longer been selling its Wii U hardware at a loss. This has led...

25th June, 0 replies

When I first saw the debut footage of Mario Maker during Nintendo's E3 2014 Digital Event, I thought...

10th June, 0 replies

Nintendo has announced a new title for the Wii U, entitled Mario Maker, which will allow gamers to create...
Share Super Mario Maker with others