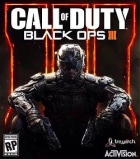 Call of Duty: Black Ops 3 is a first person shooter developed by Treyarch and published by Activision for Xbox One, PlayStation 4 and Windows PC.
Call of Duty: Black Ops 3 deploys players into a dark, twisted future where a new breed of Black Ops soldiers emerges and the lines are blurred between our own humanity and the technology we created to stay ahead, in a world where cutting-edge military robotics define warfare.
Call of Duty: Black Ops 3 Brainwaves
9th June, 1 replies

Today Activision announced that the newest Call of Duty game, Call of Duty: Black Ops III, will be coming...

29th May, 1 replies

Overview There are two games in the top 40 that are in their final weeks (week ending April 4): Xenoblade...

30th April, 0 replies

If Batman: Arkham Knight's season pass pricing made you gulp then you might want to brace yourself for...
Share Call of Duty: Black Ops 3 with others
Call of Duty: Black Ops 3