Hellblade is an action game currently being developed by Ninja Theory, who also intend to self-publish the title. Full platforms have yet to be announced but a PlayStation 4 release has been confirmed.
Hellblade focusses on the game's protagonist, Senua, as she embarks on a very personal journey through a hellish underworld.

The Snack World: TreJarers is a role-playing game developed by Level 5 and released on Nintendo 3DS.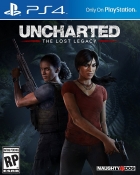 Uncharted: The Lost Legacy is an action game developed by Naughty Dog and released on PlayStation 4. The game is a standalone release that will take place one year after the events of Uncharted 4: A Thief's End. It will star notorious treasure hunter, Chloe Frazer, as she hunts down and fabled and ancient Indian artifact, before a ruthless war profiteer gets his hands on it, with the help of former paramilitary leader, Nadine Ross.
Share this list with others