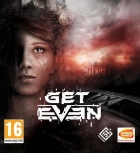 Get Even is a first-person shooter game being developed by The Farm 51 for the Microsoft Windows, PlayStation 4 and Xbox One. The game is a story-driven experience that looks to blend single and multiplayer content, with enemies being either A.I. or other players. Other unique features include advanced weaponry and a new graphics system that utilizes real-world scanning to deliver photorealistic graphics.
The story follows Black, an illegal investigator, who works for government and VIPs to gather uncomfortable evidence and, sometimes, to hide inconvenient truth. From his point of view, the answer to the question "What is real?" depends on what is shown to others and what's hidden from them. And in this kind of job, there are always victims. However, one of them appears to be not an ordinary scapegoat… What if you can change what already happened, but you can't alter what's gonna be next?

Ever Oasis is an action role-playing game developed by GREZZO and released on Nintendo 3DS. Based on Egyptian culture/mythology, players take control of a leader of an oasis, as they goes on an adventure to build up their own oasis with their trusted companion, Isuna, a water spirit. He can do this by recruiting others from outside tribes, as well as battling enemies possessed by Chaos. You will be able to bring three characters with you into battles, switching between them to take advantage of their strengths.
Share this list with others