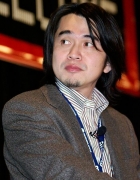 Yoshiaki Koizumi was born in 1968 and graduated from the Osaka University of Arts in Visual Concept Planning. He started at Nintendo doing artwork and manual design for The Legend of Zelda: A Link to the Past and Super Mario Kart before moving on to larger roles on Yoshi's Island and Super Mario 64. Koizumi started co-directing titles with The Legend of Zelda: Ocarina of Time and The Legend of Zelda: Majora's Mask before he returned to the Mario team to co-direct Super Mario Sunshine. After Super Mario Sunshine, Koizumi became involved with the creation of the EAD Tokyo Studio and directed both Donkey Kong: Jungle Beat and Super Mario Galaxy. Recently, he produced the free DSiWare application Flipnote Studio and served as a producer on Super Mario Galaxy 2.
Yoshiaki Koizumi Brainwaves
8th April, 1 replies

Speaking to Edge Magazine, Nintendo producer Yoshiaki Koizumi said that EAD Tokyo is already creating...
Share Yoshiaki Koizumi with others