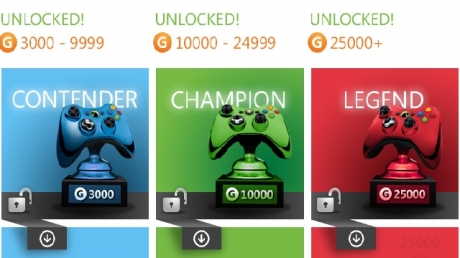 The Gamerscore (G) is an achievements system that measures the number of Achievement points accumulated by a user with their Xbox LIVE profile. These Achievement points are awarded for the completion of game-specific challenges, such as beating a level or finding certain items in the game.
Initially, retail Xbox 360 games offered up to 1,000G spread over a variable number of Achievements, while each Xbox Live Arcade title contained 12 Achievements totaling 200G. All regular disc-based games must have 1,000 Gamerscore points in the base game; the title can ship with fewer than 1,000 points, but anything added later must be free. Game developers also now have the option of adding up to 250 points via downloadable content every quarter after the first year of release (for a total of up to 1,750 points). Xbox Live Arcade titles must have 200 Gamerscore and may add up to 50 points via downloadable content (for a total of 250 points).
The development of the Gamerscore system has created a new niche in the internet economy. Many websites have been created to provide gamers with tips and tricks for getting achievement points. Some sites are solely devoted to these achievement guides, and some blogs provide achievement guides in addition to their other content.