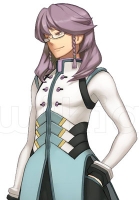 Hikari Gojō is a doctor who specialized in Reyvateils in the game Ar tonelico Qoga: Knell of Ar Ciel. Gojo used to work for Archia, but after his sisters mysterious death at the hands of the Archia Think Tank he retired and moved to Eternus Shaft. He has a strained relationship with Richa, who is in love with him, but finds it hard to return his affections due to the fact that she works for Archia.
Latest Games
Developed by Gust Co. Ltd. for PS3

Ar tonelico Qoga: Knell of Ar Ciel is a role-playing game developed by

Gust

for the

PlayStation 3

. It is the third and final installment in the

Ar Tonelico series

and takes place in the third tower of Ar Ciel, in the Reyvateil-ruled country of Clustania, located in an area known as Sol Cluster.
Share Hikari Gojō with others