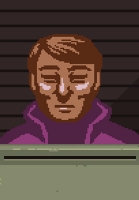 Danic Lorun is a Republian citizen who tries to enter Arstotzka without the proper papers and a minor character in Papers, Please. Desperate to enter Arstotzka, Lorun offers up his digital watch as collateral, promising to return in a few days with all his proper papers.
Latest Games
Papers, Please is a simulation game developed by

Lucas Pope

and published by

3909 LLC

for

Microsoft Windows

and

Mac OS

. The game follows an immigration inspector who must monitor the potential threats and citizens entering the fictional country of Arstotzka.
Share Danic Lorun with others