Introduction
"Forward by bounds!"
Mirana, the Princess of the Moon is a highly versatile ranged agility hero who has traditionally been played in the offlane role. She is, however, capable of laning mid, and in recent months has moved into a farming carry role in the competitive scene.
While typically outstripped by harder carries in the late game, her mobility, burst damage, and ability to fight early have made her a popular semi-carry.
Pros & Cons
Pros
Versatile hero - can lane anywhere and fits into any line-up
Highly mobile and has two escape mechanisms
Good burst magic damage
Ultimate is great for initiating teamfights and disengaging from bad teamfights
Long duration stun but...
Cons
...Her stun is usually hard to land
Outcarried by most other carries late game
Mana intensive hero
Fairly squishy
Item Build

Regardless of the role you intend to play, you should start out with: three Branches, a set of Tangos, a Healing Salve, and one Slippers of Agility. Upgrade the Branches into a Magic Wand when you can, and you can upgrade Slippers of Agility into a Wraith Band to get the most out of your starting items.
The Wraith Band can in turn be upgraded into a Ring of Aquila, which has great synergy with Mirana and will give your mana regen a nice boost. It's not core, but it is highly recommended. You could alternatively consider a Bottle to help out with your mana issues, even if you're not laning mid.
As far as boots go, you can either pick up Power Treads (survivability, attack speed) or Phase Boots (chasing power, damage). Both are decent on Mirana, so it comes down to personal preference.
Your first big ticket item should almost always be a Yasha, working into a Manta Style. All of Manta's stats are ideal for Mirana, the illusions increase your push potential, and the active also allows you to disjoint and/or get out of silence. Silencing is a good counter to Mirana, so Manta is a good way to counter the counter! The only exceptions are Doom and Legion Commander's ultimates (and Disruptor's if he has an Aghanim's Scepter), which are actually special form of silence called muting and will prevent you from using Manta.
Once you have your core, which should consist of a Magic Wand, Boots, Manta and a Ring of Aquila or Bottle, your options are wide open. Some great item choices include:
Black King Bar - Almost always a great pick up, increasing your survivability, granting you Spell Immunity for teamfights/sticky situations, and giving a small damage boost.
Diffusal Blade - Gives you even more potent chasing power with the Purge active (or alternatively it can be used defensively, to remove debuffs). The stats are also ideal for Mirana: mana and agility, which is her primary stat.
Desolator - Allows you to pack a bigger punch, Mirana's right click damage output can oftentimes feel sub-par; a Desolator will remedy this and is fairly cheap compared to other right-click damage items. The minus armour also makes you a potent pusher since it works on buildings too.
Moving into the late game, when you're looking to fill out your inventory, you can either opt for utility items, such as Assault Cuirass and Orchid Malevolence, or damage items, such as Butterfly, Daedalus, and Monkey King Bar. Mjollnir is also another decent option. Assault Cuirass is probably best if no one else on your team is working into since, since it benefits your entire team so much, but otherwise Butterfly is the optimal late-game item for an agility carry like Mirana, unless the enemy team already has a Monkey King Bar.
Skill Build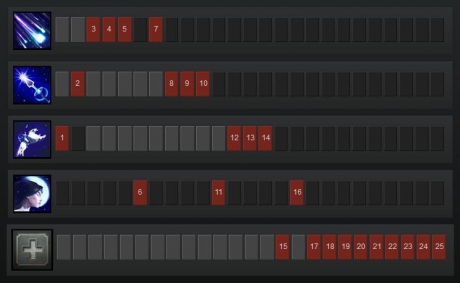 Your first skill point is best placed in either Sacred Arrow or Leap. If I'm in the offlane or mid then personally I'd rather be safe than sorry and so will put my first point in Leap so that I can Leap away if ganked at level 1. Sacred Arrow is your other option, since it allows you to stun an enemy hero, but it's not as reliable an escape mechanism.
Whichever you didn't opt for at level one, put a point into it at level 2. Thereafter you'll probably want to focus on maxing out Starstorm. You can max Arrow first instead, if you're confident in your Arrow skillshot skills, but Starstorm is the safer option, delivering guaranteed magic damage and a random second instance of magic damage to an enemy within 175 range.
Get a point in Moonlight Shadow at levels 6, 11 and 16. This skill has been buffed over and over to the point it is now a no-brainer to get it right away. The mana cost used to be far too prohibitive, but now it's only 75 and can be used to initiate early ganks (think of it as a superior Smoke gank) or allow allies to escape from enemy ganks.
Next you want to max out Sacred Arrow, and leave Leap for last. Leap does scale well, which makes ti superior to getting stats, but a single point should be sufficient in most situations until later in the game.
Gameplay Tips
Your goal in the lane is to try and keep on par in last hits with your lane opponent. Once you have sufficient points in Arrow and Starstorm you have a significant amount of burst magic damage; if you see an opening go for a gank.
Lead with Sacred Arrow (remember that the further it travels the longer the stun will last, up to a max of 5 seconds), then come in as close as possible for a Starstorm (so that you have a chance of hitting them twice). To do this you can Leap in, but this means you'll probably have no escape mechanism in reserve should things go south.
Remember that Sacred Arrow is a skillshot; it is not a guaranteed hit, so you have to aim carefully and try to anticipate your opponent's movement. Creeps will also block the arrow if you accidentally hit them as well, so make sure you have a clean line of sight.
A good way of initiating both ganks and teamfights is to cast Moonlight Shadow beforehand. Make sure that none of your teammates are visible on the map last hitting creeps, otherwise the enemy will be able to see that Moonlight Shadow has been cast and will be more prepared for your gank.
Moonlight Shadow is almost like a superior form of Smoke of Deceit. Where Smoke will reveal you when you come within 1025 range of an enemy hero, Moonlight Shadow does not; you will only be seen if the enemy has some form of invisibility detection. This means your entire team can theoretically converge on the enemy and position themselves ready to gank with maximum effectiveness.
Alternatively, Moonlight Shadow can be used to disengage from poor teamfights or to give allies a chance of escaping a gank that would otherwise kill them. Don't be afraid to cast it during the laning stage if a teammate is being dove at the tower!
Last Updated - Patch 6.82.