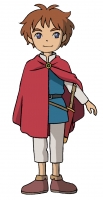 Oliver is the main character of Ni no Kuni: Wrath of the White Witch and Shikkoku no Madoushi.
He is a young boy born and raised in the town of Motorville (Hotroit in the Japanese version). One day, while testing out a vehicle that was built by his friend, Philip, he ends up landing in a river. His mother was searching for him and upon finding him in the water, swims out to rescue him. She ends up getting sick and eventually passes away, putting Oliver in a depressed and grieving mood. While clutching onto the doll made for him by his mother, he starts crying and the tears make the doll come alive.
Latest Games
Developed by Level 5 for DS, PS3

Ni no Kuni: Wrath of the White Witch is an RPG developed by both

Level-5

and

Studio Ghibli

, for

PlayStation 3

. It was released in Japan on November 27, 2011, with a release in North America on January 22, 2013 and in Europe on January 25, 2013.
Oliver (Ni no Kuni) Brainwaves
Share Oliver (Ni no Kuni) with others