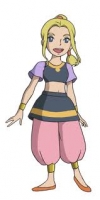 Esther is a character from Ni no Kuni: Wrath of the White Witch.
She comes from Al Mamoon and is the daughter of the Great Sage, Rashaad. She had a piece of her heart stolen by Shadar, which requires some help from Oliver. It turns out that her soul mate (real life counterpart) is a girl named Myrtle, who is "sick." Oliver helps her out by defeating the Nightmare inhabiting her father, Rusty, and then mending his broken heart. This leads to Myrtle being cured and Oliver getting some extra courage from her, which they used to mend Esther's broken heart, curing her.
Latest Games
Developed by Level 5 for DS, PS3

Ni no Kuni: Wrath of the White Witch is an RPG developed by both

Level-5

and

Studio Ghibli

, for

PlayStation 3

. It was released in Japan on November 27, 2011, with a release in North America on January 22, 2013 and in Europe on January 25, 2013.