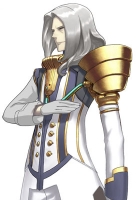 Raphael is the Chairman of the Archia Think Tank and a main antagonist in Ar tonelico Qoga: Knell of Ar Ciel. Raphael came to power during the struggle for power between the Neo Atlas Faction and the Ancient Faction. Believing that even if the Planet Regeneration Project was a success, if the humans didn't change, their environment wouldn't change either.
Using his power of persuasion, Raphael maneuvered his way to leader of the Neo Atlas Faction, replacing Mute's father Laude, and then rose the corporate chain to occupy the Chairman's seat. Unlike Laude, Raphael thought it wasn't necessary for the γ-Sublimate to have a particularly long life span, that is she lived long enough to absorb a Will of the Planet and they extracted its physical structure data, that would be enough. After becoming Chairman he expelled the Ancient Faction, including Aoto's parents and Kiraha, from the Think Tank and focused primarily on the Human Evolution Project.
Latest Games
Developed by Gust Co. Ltd. for PS3

Ar tonelico Qoga: Knell of Ar Ciel is a role-playing game developed by

Gust

for the

PlayStation 3

. It is the third and final installment in the

Ar Tonelico series

and takes place in the third tower of Ar Ciel, in the Reyvateil-ruled country of Clustania, located in an area known as Sol Cluster.
Raphael (Ar tonelico) Brainwaves
Share Raphael (Ar tonelico) with others