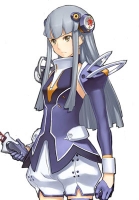 Akane is the Supreme Commander of the Clustanian Army and a good friend of Finnel's in Ar tonelico Qoga: Knell of Ar Ciel. Born and raised at the same time as Finnel, Akane stood up for her against bullies. Despite being designed not to physically show her emotions, her ruthless personality is underlined by a loving and loyal nature.
Latest Games
Developed by Gust Co. Ltd. for PS3

Ar tonelico Qoga: Knell of Ar Ciel is a role-playing game developed by

Gust

for the

PlayStation 3

. It is the third and final installment in the

Ar Tonelico series

and takes place in the third tower of Ar Ciel, in the Reyvateil-ruled country of Clustania, located in an area known as Sol Cluster.
Akane (Ar tonelico) Brainwaves
Share Akane (Ar tonelico) with others