Introduction
"Tremble, vermin, before the stony gaze of the Gorgon."
Medusa is a ranged agility hard carry. She is famed for being an ultra late game monster thanks to her powerful ultimate and Split Shot abilities, the problem is making it to the late game with her being in good shape; a tough ask given that her team will for the most part be fighting 4 on 5 for a good chunk of the early and mid game. For this reason she is an extremely rare pick both competitively and in public matchmaking.
Medusa's complete character profile can be found here.
Pros & Cons
Pros
Late game monster – one of the scariest late game carries
Strong teamfight ultimate
Scales superbly with farm
Has an emergency escape mechanism
Good anti-illusion hero
Cons
Poor movespeed
Completely item dependent
Very weak early and even mid game presence – often feels like a 4 v 5 game for a long time
Needs to be babysat
Strongly countered by mana burn
Item Build

Medusa is a hard carry who needs a heck of a lot of farm before she comes on line. This means you need to lane her in the safe lane where she can benefit from safe lane support and farm, or at the very least solo mid with defensive wards up to protect her from ganks. Prior to level 6 Medusa has no escape mechanism and is really very fragile, so it's important you avoid being killed early on.
Starting Items
Typical starting items for Medusa should look something like this:
- A set of Tangos, Healing Salve, Iron Branch, Circlet, Slippers of Agility.
This gives her plenty of regen to see you through the early laning phase and gets the most value stat gain possible for your remaining gold. Medusa's role is to farm farm farm, and this can actually be a struggle initially given her low base stats, so these starting items will make that job a little bit easier.
Early Game
You want Boots of Speed asap. Medusa has slow base move speed – 290 – is squishy early on, and is the highest priority gank target for the enemy team.
You have two options for upgraded boots: Phase Boots, for their high move speed, increased damage for last hitting purposes, and burst move speed for chases and escape attempts; or Power Treads, which leave you much less mobile but give you some much-needed stats as well as attack speed.
It's largely down to personal preference, though most people prefer to opt for Phase Boots because Medusa feels a bit like a beached whale with just Power Treads – you likely won't be escaping once your ultimate's finished, so you tend to find yourself sitting there right clicking, hoping the enemy team doesn't commit on you or that you can kill them if they do.
Once you have upgraded boots it's good to invest spare unreliable gold on some early cost-efficient stat items. Magic Wand is core, and a Wraith Band into Ring of Aquila is highly recommended – Aquila gives great stats for its cost, with patch 6.80 making it even more cost effective.
You're still a very long ways off being even remotely fighting-ready, though. When you hit level 6 you CAN take part in fights if necessary – most enemies will turn around when you pop your ultimate in order to avoid being turned to stone, so it is a great counter-initiation tool or escape mechanism. Remember also that Mystic Snake deals more damage during your ultimate, and so you can actually contribute a decent amount of lockdown/disruption and damage to teamfights, but don't commit too hard and most of all avoid dying or neglecting to go straight back to farming immediately afterwards.
Core Options
The standard Medusa build is to go for Linken's Sphere as your first big ticket item purchase. Think of it as Medusa's version of a Battle Fury on Anti-Mage – Linken's doesn't make you fighting ready, it makes you flash farm ready. With Linken's Sphere you acquire lots of regen and some good stats, which allows you to stay on the lane or work through the jungle using Mystic Snake without losing too much health or mana.
Linken's Sphere is also a fantastic defensive item, synergising superbly with both the high mana costs of your actives Mystic Snake and Stone Gaze, as well as the mana-intensive cost of Mana Shield during skirmishes, whilst providing you with the spellblock passive which will protect you from single target nukes/stuns/disables.
If the enemy team lacks important single target abilities, or has a line-up which has plenty of expendable/spammable single target abilities (such as Lion, Bristleback, Shadow Shaman, Zeus, or any hero that purchases Medallion) then Linken's Sphere becomes a much less valuable pick-up, and I would strongly consider avoiding it entirely in favour of a more effective combat-ready item, such as…
Manta Style. Some times your team's early game will fall apart, or your farm will be stymied, or Linken's Sphere is a less-than-ideal item pick-up, or you'll simply be forced into a scenario where you simply cannot avoid teamfighting. If the game goes this way a Medusa with something more combat-ready than Linken's Sphere, such as Manta Style, will be much more useful.
Luxury Extensions
Manta Style is also a great luxury option for Medusa, so don't just think of it as an alternative core to Linken's Sphere. Good stat gain, plenty of agility, some move speed and attack speed, as well as the ability to summon two illusions and dodge certain projectiles and silences. A very solid luxury item on Medusa.
Eye of Skadi – A fantastic luxury item on Medusa. This is one of my favourites and I usually go for it asap. Medusa's mana pool is essentially an extension of her health pool, thanks to Mana Shield, and so an item like Eye of Skadi which gives huge health (250 direct health, +25 strength) and mana (250 direct mana, 25 intelligence) bonuses makes her incredibly tanky.
On top of that, Eye of Skadi gives you a fantastic attack modifier – 35% move and attack speed slow which lasts for 3 seconds, which makes your right clicks much more potent. Put simply, almost not team wants to fight into a Medusa with Skadi - she's tanky, hits hard, and has an annoying as hell attack modifier to face up against.
Butterfly – The ultimate late-game luxury purchase for agility carries – huge chunks of attack speed, damage, and evasion. The only problem with Butterfly is that it's hard-countered by Monkey King Bar. If the enemy carry is working towards, or already has an MKB, consider purchasing a different luxury item. It's still a great item to have, but the evasion is countered and it thus becomes a cost inefficient item.
Mjollnir – Mjollnir will massively increase your attack speed and give you a small damage boost at the same time. Mjollnir is an especially good option if you're facing a push-heavy line-up, or an illusion-based carry (such as Phantom Lancer or Terrorblade).
A note on the Chain Lightning passive of Mjollnir - it is a Unique Attack Modifier but unlike most it actually stacks with other Unique Attack Modifiers, merely overriding them when Chain Lightning occurs, so you can purchase Mjollnir as well as Eye of Skadi without reducing the latter's effectiveness.
Daedalus – Damage, damage, damage. A solid carry damage item if you feel lacking in punching power.
Monkey King Bar – High damage, a small attack speed boost, and completely counters agility carries that opt for a Butterfly or tanky cores that go for Heaven's Halberd.
Situational Items
Boots of Travel – When you are at that stage of the game when you're becoming 6 slotted you can swap out your initial set of boots for Boots of Travel (assuming you bothered to upgrade your basic Boots of Speed earlier). It frees up a slot you would otherwise have reserved for a TP Scroll and makes you much less susceptible to split-push.
Black King Bar – The ultimate defensive item for any carry. This will prevent you being locked down in teamfights by stuns or killed off with burst magic damage. The strength bonus increases your health pool a touch and the damage is always handy, but the main reason you buy this is for the Spell Immunity active, so make sure you use it for teamfights.
If you get locked down in teamfights despite your Linken's Sphere (for example, they target you with multiple disables, or have a 'throwaway' ability that they used to pop your Linken's Sphere) then you'll need to prioritise BKB quite highly. If they don't, and Linken's Sphere is seeing you through teamfights just fine, then you don't need a BKB.
Satanic – Satanic doubles up as both a fantastic offensive and defensive weapon. You get a nice chunk of health, life steal from your attacks, and the chance to heal yourself back up when low on health using the Unholy Rage active. I like to liken this to the health effects of Roshan's Cheese. As long as you're able to attack, you basically get your health pool completely regenerated.
Divine Rapier - I never buy Rapier, but I'm a very cautious player and worry about the consequences should I die and drop it. If you don't care about potentially throwing the game, or you're so far behind that it's worth buying it for a hail-mary attempt at winning, then feel free to go for a Divine Rapier. Just warn your team so they know to either protect you or be prepared to pick up the Rapier should you die. All of that said, Medusa is one of the best Rapier characters in all of Dota 2, with her innate tankability in the late game making it very difficult for the enemy team to bring her down and her own Split Shot ability making the bonus damage from Rapier even more effective than it would be ordinarily.
Skill Build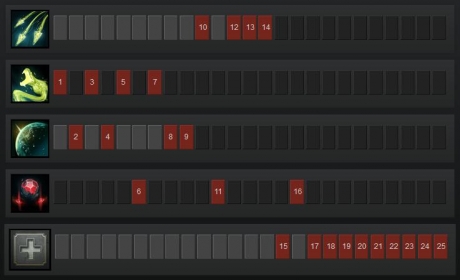 Split Shot is a toggle-able ability that splits her shots into multiple arrows. It is always skilled and maxed last. Split Shot splits Medusa's shots into 2/3/4/5 shots, but those shots only deal 80% of her damage, and this is the reason it is not skilled early on.
Mystic Snake is a magic damage nuke that also steals mana which is then given to Medusa. It is typically skilled and maxed first. It deals 80/120/160/200 magic damage to the chosen target and steals 20/35/50/65 mana, and will then jump up to 3/4/5/6 times to nearby enemy units within a 475 unit radius.
Mystic Snake deals a bonus 25% damage and mana seal per jump, making it much stronger in teamfights, for clearing jungle camps, or in the laning stage when enemy heroes are nearby creep waves.
Mana Shield is a toggle-able ability which absorbs 60% of all incoming damage at the cost of Medusa's own mana. Mana Shield absorbs 1.6/1.9/2.2/2.5 of damage per point of mana.
Mana Shield is usually skilled and maxed second, however many players prefer to get two points in stats before skilling it, meaning it's not levelled until level 8. However, I recommend at least one value point in it early on for emergency use.
Stone Gaze is Medusa's ultimate and it is always skilled (levels 6, 11 and 16). Once cast, it lasts 6 seconds and slows the move speed and attack speed of enemy units that are facing Medusa.
If enemies face Medusa for 2 seconds during this time they are turned to stone, stunned for 3 seconds, and take an additional 30/40/50% bonus physical damage, making it both a decent escape mechanism and an excellent teamfight ultimate.
Gameplay Tips

Split Shot is usually not skilled or maxed until later on in the game, however if you get off to a good start and have your Linken's Sphere up fast enough, you may want to start skilling it a bit earlier, so that you can utilise it to flash farm the jungle.
Assuming you're able to hit the maximum of 5 targets, Split Shot effectively increases your damage output by 160%/240%/320%/400%.
Note: Medusa's illusions will make use of Split Shot themselves, providing it was toggled on when they were created, so be sure to toggle it on prior to using the active on Manta Style, for example.
At level 4, Mystic Snake deals 200 damage on the first jump, 250 on the second, 300 on the third, 350 on the fourth and 400 on the fifth. Because it deals significantly more damage upon jumping, try to avoid targeting it directly on enemy heroes, providing they are close enough to creeps for it to jump, that way you will deal more damage.
As long as the units in question have mana, Mystic Snake essentially more than pays for itself at level 3 so long as you hit at least three units with mana, so you can use it to deal significant harass without losing mana.
Tip: Mystic Snake deals pure damage to any enemy units that are in stone form as a result of Medusa's Stone Gaze, so it's best to use Mystic Snake after Stone Gaze, not before.
If retreating/attempting to escape, toggle Mana Shield on; you might manage to survive when your otherwise wouldn't simply thanks to your mana pool mitigating damage. Although many players don't skill Mana Shield until level 8, and so invest two points in stats early on, it's well worth getting at least one value point in Mana Shield early on for precisely this reason.
Mana Shield being active will quickly eat into your mana reserves, so if you need to conserve mana for a Stone Gaze or Mystic Snake make sure it's toggled off. However, if you don't need mana for Stone Gaze toggle it on in order to effectively double your health pool – this is what makes Medusa such a tanky late game carry.
Stone Gaze tends to have two primary uses:
1) As an emergency escape mechanism. This is more commonly seen in the earlier laning phases, when Medusa is a high priority and very fragile target for ganks. Make sure to have 200 mana in reserve at all times in case you need to use it to escape.
2) As a powerful teamfight ultimate and counter-initiation tool.
Don't fear 'wasting' Stone Gaze in order to escape from a gank early on. Deaths really set Medusa's progress back greatly early on and 90 seconds isn't that big of a cooldown for an ability that is rarely used in the early stages of the game.
When using it for teamfights, avoid using it to initiate a fight if possible – an enemy team with even half a brain will simply back off and wait for it to finish. Instead, use it either in the middle of the fight when the teams have committed themselves, or as a counter-initiation ultimate.
Stone Gaze forces enemies to either turn their backs on Medusa – in which case they cannot harm her – or to endure a 3 seconds stun during which time they take an additional 30/40/50% physical damage, which is where Medusa's damage output lies, so as long as they cannot dis-engage they will be caught in a catch 22 situation.
Note: Stone Gaze will immediately kill enemy illusions if they become petrified, making it a good one-off counter to illusion-based pushes.
Stone Gaze also goes through Spell Immunity, making it a strong ability against enemy carries that rely on BKB in teamfights. If you use it after they've triggered their BKB they will be forced to either take the 3 second stun or to turn away from Medusa, thus wasting their BKB's spell immunity either way.
Last Updated - Patch 6.82.