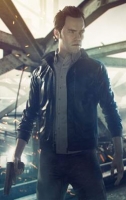 Jack Joyce is one of the central playable characters in the game Quantum Break.
He is the victim of a science experiment gone wrong which gives him the ability to manipulate time in various ways.
Latest Games
Developed by Remedy Entertainment for WIN, XOne

Quantum Break is an action game being developed by

Remedy Entertainment

and due to be published by

Microsoft Studios

exclusively for the

Xbox One

. The game is being developed alongside a Quantum Break television show and how you play the game will impact on the show, and the show will inform how you play the game.
Share Jack Joyce with others