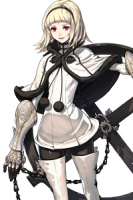 One is Zero's younger sister who appears in the action RPG, Drakengard 3.
One has similar powers as her older sister. Her personality is completely opposite of Zeros', she is a serious and intellectual character with blood red eyes. She strives to help the world with her unique singing ability.
Latest Games
Developed by Access Games for PS3

Drakengard 3 (known as Drag-On Dragoon 3 in Japan) is an action-based role-playing game being developed by

Access Games

and to be published by

Square Enix

only for

Playstation 3

. The game will be released this December in Japan, and at an unspecified date in 2014 in North America. Drakengard 3 is the third game in the

Drakengard

series and serves as a prequel to the original game.
One (Drakengard 3) Brainwaves
Share One (Drakengard 3) with others