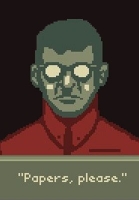 The Inspector is an immigration inspector for the Ministry of Admission of Arstotzka and the unnamed protagonist of Papers, Please. From a small village called Nirsk in Arstotzka, the Inspector won his job in Grestin in the 1982 October labor lottery. After moving to Grestin with his family, the Inspector works at the Arstotzka border where he must inspect papers to determine who may enter Arstotzka.
Latest Games
Papers, Please is a simulation game developed by

Lucas Pope

and published by

3909 LLC

for

Microsoft Windows

and

Mac OS

. The game follows an immigration inspector who must monitor the potential threats and citizens entering the fictional country of Arstotzka.
Protagonist (Papers, Please) Brainwaves
Share Protagonist (Papers, Please) with others
Protagonist (Papers, Please)