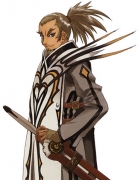 Vandesdelca Musto Fende, better known as Van Grants, is the Commandant of the Oracle Knights within the Order of Lorelei, serving as the commander of the God-Generals. Van is the primary antagonist of Tales of the Abyss. He is also Luke's sword instructor and mentor.
Latest Games
Developed by Namco Tales Studio for 3DS, PS2

Tales of the Abyss takes place on Auldrant, a planet composed of elementary particles called Fonons. For much of Auldrant's history, only six fonons were known to exist, representing the elements of Shadow, Earth, Wind, Water, Fire, and Light; but eventually a seventh fonon, Sound, is discovered. Its discovery brings great chaos: using this newest Seventh Fonon allows one to read the future. One such Seventh Fonist, Yulia Jue, puts in place a future for the world for thousands of years to come, with the promise of unlimited prosperity at its end. This prophecy of the future's set path becomes known as the "Score" and is documented on "Fonstones" scattered throughout the world.
Share Van Grants with others