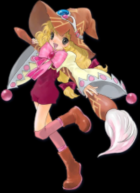 Beryl is a playable character in Tales of Hearts who runs away from home in order to live out her dreams. She is known for being really indecisive.
Latest Games
Developed by Namco Tales Studio for DS

Tales of hearts follows Shing Meteoryte, who lives in a world where everyone has a spiritual power called spiria though this power cant be used without Soma which allows the Spira to be used in combat.
Share Beryl Benito with others