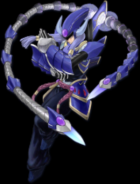 Kunzite is a machine with an ai that allows for some emotion to be displayed. He is over 2,000 years old and was created to protect Richea Spodune. His weapon is the Vex Soma.
Latest Games
Developed by Namco Tales Studio for DS

Tales of hearts follows Shing Meteoryte, who lives in a world where everyone has a spiritual power called spiria though this power cant be used without Soma which allows the Spira to be used in combat.
Share Kunzite with others