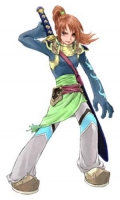 Tilkis is a key playable Character in Tales of Tempest. Tilkis travels from a land very far from Caius to ask for help from their king. She wields a large sword in combat very well.
Latest Games
Developed by Dimps Corporation for DS

Throughout Areura's history the Lycanth ruled over everything and would eventually establish a civilized civilization where all were treated fairly. Though their greed for advancement would eventually lead to their downfall as they found technology was too much for them and a huge number of their species where destroyed by them tampering with ancient technology. The humans would eventually come up to rule in their place. Far into the future this would lead to conflict.
Share Tilkis Barone with others