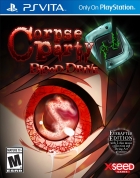 Corpse Party: Blood Drive is an adventure game developed by 5pb. Games, Team GrisGris and released on PlayStation Vita. The title takes place two months after the events of Corpse Party: Book of Shadows, and will put you in control of Ayumi Shinozaki, a young girl who must use a dark tome to resurrect her murdered friends.
Corpse Party: Blood Drive Brainwaves
12th January, 0 replies

XSEED loves to tease its fans when announcing new games. This time around the company has given out a...
Share Corpse Party: Blood Drive with others
Corpse Party: Blood Drive