Someone has eaten the Demon Lord Etna's Sea of Gehenna Pudding! In response, wants the Prinnies to create the Ultra Dessert, a Legendary Treat with no set ingredients. Assigned with a strict 10 hour time limit, the Prinnies must gather all the ingredients from each stage's Boss.
Difficulties
Hell's Finest
Hell's Finest is the hardest mode and allows no room for error by having a single hit cause the Prinnies explode.
Normal Mode
Normal mode allows the Prinny to take three hits represented by three scarf icons in the lower left corner of the screen.
Health & Death
Prinnies are fragile beings and tend to explode when roughed around. To prevent this, Etna has given one Hero Prinny a red scarf, similar to the one Laharl wears. This red scarf prevents the Prinny from exploding by giving you hit points, 0-3 depending on game difficulty, that when depleted will result in the Prinny being destroyed and a new Prinny will taking it's place, giving you a total of 1,000 lives for the 1,000 Prinny Squad size.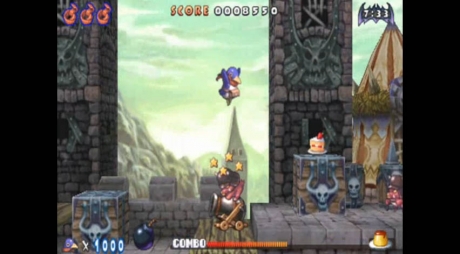 Movement & Attacking
The Prinny is moved with the standard right of left on the D-Pad to walk, down to duck, and X to jump or double jump.
Hip Pound
By pressing Down + X, while in the air, you can do a Hip Pound attack that can stun most enemies, and help to stun bosses.
Attacking
There are two main attacks: the first is the basic slash which is performed by pressing Square and the other is the Prinny Barrage, which is performed by pressing Square in the air. Both attacks slash as much as you press button, up to a certain limit.
Throwing
By pressing Triangle, you can pick various things such as bombs, barrels, and stunned enemies and throw them by pressing Triangle again. Throwing a bomb will make a small explosion and throwing a stunned enemy that is low on health will cause an explosion that works the same as a bomb.
Prinny Bomb
Prinny Bomb is a special attack that you unlock by losing all 1000 lives and getting a game over to trigger a special ending. After the ending, the game will tell you that you unlocked the attack, which can be used by pressing and holding R + Square. This attack does a lot of damage, but it constantly drains your remaining Prinnes.
Prinnicide
This Special Ability allows you to make yourself explode and has no use in combat, though it sure is fun and allows you to return to a previous checkpoint.
Collectibles
-
Asagi Mode
An alternate story that is unlocked by either finding the ten torn letters, or entering a code at the title screen, the story features Asagi Agagiri. Throughout the seven stages of the alternate story, Asagi battles Prinnies for the right to be the main character of the game, but is defeated.
Additionally, if enough Lucky Dolls are found thoughout the game, the player can enter Martial Tower. This extremely hard level features two optional boss fights involving characters from the original Disgaea series and explains some of the game's backstory.