The Basics
The Showdown Effect is a 2.5D multiplayer action game where players battle for the upper hand through cunning use of different weapons, the game's wide range dynamic environments and even the engine's own dramatic audiovisual effects.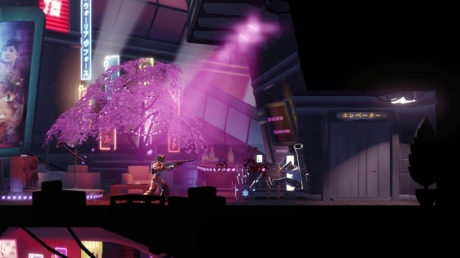 The focus of The Showdown Effect is in recreating the outrageous action found in classic action movies and taking them one step further.
Movement & Platforming
The Showdown Effect is heavily invested in the fundamentals of platforming and utilises this within levels that are recreated from your childhood movies.
Sliding
While running, the player can slide by pressing down. While sliding, you can aim and shoot without losing any speed, as opposed to shooting while moving.
Dodge-Rolling
Double tapping to either side will executes a roll, dodging attacks at the same time. While rolling you are still vulnerable to damage, but the slow animation activated after a roll can be cancelled out of with a jump or melee attack.
Additionally, Hailey's ability can be used after a roll to shoot off at a 45 degree angle, quickly covering lots of ground.
Combat
Weapons
Players can pick weaponry from the silver screen's unparalleled arsenal, including shotguns, frying pans, lightsabers, assault rifles, grenades, katanas, gauss guns and anything in between.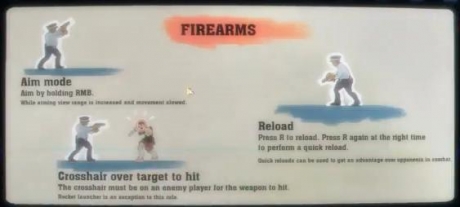 Each weapon has a specific type that determines what they are best for: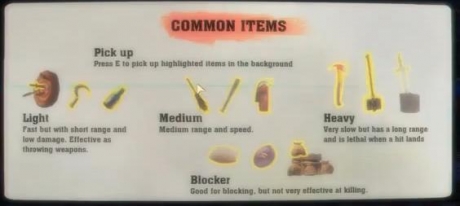 Blocking
While using a melee weapon or Kung Fu, you can block damage by taking damage to a block gauge instead of health. When the block gauge is depleted, you will becomes stunned for a couple of seconds and some items are able to block more damage than the others.
Additionally, Hank Stream's frag grenade are able to damage a player through a block, but deals 50% damage.
Melee
You can also do melee damage by attacking without a weapon equipped.
Other Abilities
Additionally, there are a number of smaller actions that the hero can perform, such as bandaging, throwing items, or using their specials.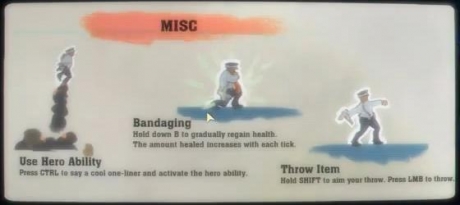 Game Modes
Showdown
Showdown mode is a free-for-all mode with a slight twist: a countdown appears at the top of the screen indicating how many seconds until the respawns are locked. During this time, kills are worth an extra point and the last player alive will be awarded three bonus points.
Team Elimination
A team game mode where each time a member of your team dies the respawn time for the team is delayed by 5 seconds. The round ends when all the members of one team are dead at the same time.
When you are the last person on your team the warning - "Survive!" - is displayed, and if you die your team will lose the round. Similarly, if there is only one person left on the opposing team then "Manhunt!" is displayed. If both teams only have one person remaining then"Sudden Death!" is displayed.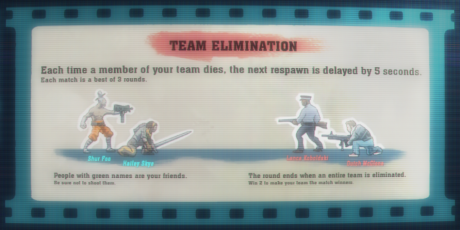 The Expendables
In expendable mode one team become the expendables and the other the henchmen. Expendables can earn points but when they die time is added to the respawn timer. Henchmen respawn quickly but are fragile and only have access to one randomly chosen weapon. The round is over when the expendable team are entirely eliminated, and then the teams switch roles.
One Man Army
One Man Army pits a single player against the rest. When the henchmen manage to kill the One Man Army the position rotates to the next player.
Customisation
As a multiplayer game The Showdown Effect offers all the progressive rewards and unlocks that players have come to expect from modern gaming, which means you are able to progress your character and unlock new customization options as you advance through the game.