The titular Toki Tori explores a lush forest island inhabited by strange and mysterious creatures, solving puzzles and tackling a strange black goo which threatens your home land.
Skills
Whereas in the original Toki Tori, Toki Tori himself found items to use, in Toki Tori 2 there are no items at all. Instead, you're given skills to use to manipulate aspects of the world around you.
The first skill is Whistle, which encourages creatures to move towards Toki Tori and perform certain actions.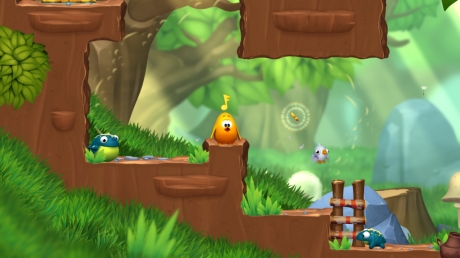 The second skill is Stomp. Stomp scares creatures away from Toki Tori and also allows you to break objects and the environment.
Puzzle Elements
The puzzles found in the game don't simply evolve around the two abilities mentioned above. You'll also have to make use of objects, elements and the environments found in the game to solve problems. For example, if Toki Tori walks into water his fur gets wet, which allows him to potentially solve problems, such as the need to grow grass found in the environment; a wet Toki Tori can do just this.
Tokidex
The Tokidex is a new feature for the series. During the game Toki Tori can whistle a song to bring up a camera (which is controlled through the Wii U Gamepad in the Wii U version of the game, or the keyboard in the PC version). You can then use the camera to scan and take pictures of creatures that appear in the world, which will then be stored in the Tokidex.