Deep Loot gameplay is largely about exploring the vast ocean, collecting artifacts, setting new records and completing challenges.
Every action consumes air so to reach the deepest depths and take on the toughest creatures you will need to manage your resources and upgrade equipment.
Each dive is different with the ocean being generated procedually on the fly. This means that you can explore for as long as your air will last and that no dive will ever be the same.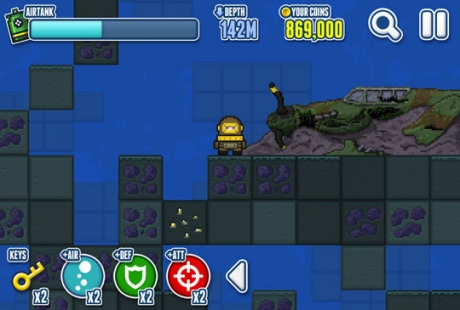 Above: Pre-Alpha screengrab of underwater gameplay
Ships
There are a wide variety of ships for you to unlock.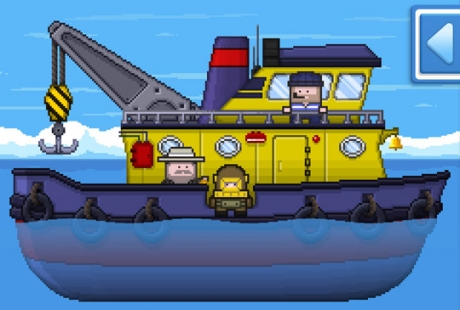 Above: The 'Crafty Tug'
Suits
-
Boosts
Boosts can be used to start your dive at a deeper depth than usual. Boost tokens can be found during gameplay as well as purcashed as consumables with in-game currency in the shop.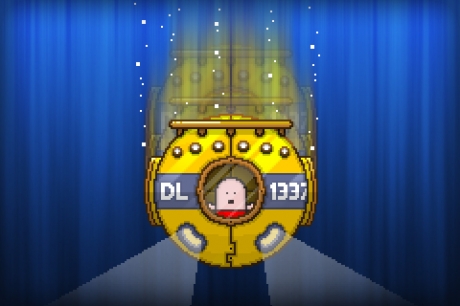 Above: The standard boost diving-bell
Upgrades
Airtanks
Airtank upgrades allow you to dive deeper for longer.
Drills
Drill upgades allow you to drill blocks easier. This uses less air and therefor allows you to travel deeper faster.
Harpoons
Haproon upgrades help you tackle enemies quicker allowing you to reach new or deeper areas safely without the extra loss of air.
Depths
-
Collections
Throughout the game you will discover a wide range of collectable items and artifacts. For each one you find the Collector chatacter will give you coins to invest in boats, suits and upgrades.These items are stored in the Collectors Warehouse. Crates will stay locked until you find the first item of the set and then you can see which other shaped items you need to finish the collection. The developers have indicated that there will be hundreds of pieces of loot to collect.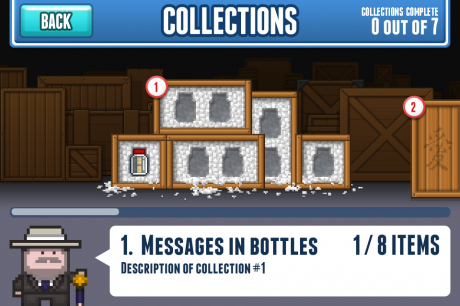 Above: Pre-Alpha Screenshot of the Collectors Warehouse
Coins
Coins are a currancy which is increased by collecting loot, or by purchasing micro-transactions. Players can unlock gameplay enhancing items, such as different harpoons to protect themselves from creatures, or larger air tanks which allow you spend longer underwater and reach greater depths. You can also unlock new ships from which to dive, new characters and more.