Welcome to the Pet Rescue Saga Cheats and Codes and Tips page where our team of contributors will help you with a set of cheats, codes, hints, hacks, tips and unlockables.
If you are stuck on something specific and are unable to find any answers on our Pet Rescue Saga Cheats page then be sure to ask the Pet Rescue Saga Forum / Community for help and advice in the discussion box below and they will get back to you as soon as possible with an answer!
Tips and Strategies
Pet Rescue Saga bares much resemblance to its previous installment in the series, Candy Crush Saga and for this reason many are likely to be familiar with the game. However, many new players will find passing levels tricky. Here is our helpful list of tips and tricks to help those unfamiliar players get to grips with the frustrations of Pet Rescue Saga.
Lives
You begin with only 5 lives which run out quickly, losing one each time you fail a puzzle. If you want to spend real life money you can purchase more for $0.99 or wait for them to refill. Quitting a puzzle at any point after starting will also cost you a life.
Be careful not to waste lives. Puzzles only provide you with a certain amount, and running out means game over. Similar to Candy Crush Saga, you can ask Facebook friends for lives, and vice versa.
Beating a Level
You dont need to eliminate all blocks, but rather satisfy each puzzles goals. This may be, for example, ''Rescue 4 Pets'' or ''Score 20,000 points''. Pay close attention to these goals.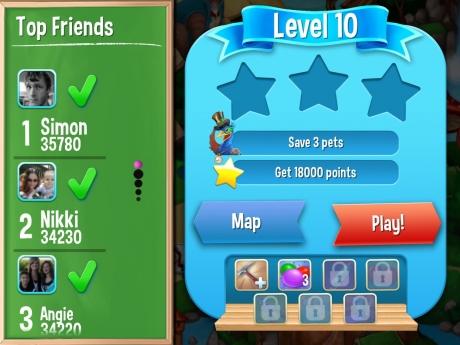 Boosters
''Colorpop'' and ''Blockbuster'' boosters can be extremely useful. Dont waste them on easier levels or you may find yourself needing to buy more later in the game.
Use the ''Column Blaster'' to clear some blocks that are different colors. The rocket in the bottom left corner can be dragged into position and launched to do this.
Making Moves & Destroying Blocks
Making Invalid Moves can cause pets and blocks at the top of the screen to disappear. Think Ahead. Try to look 2 or 3 moves into the future and consider what will happen when you move certain blocks. It's a strategic game, so use strategy.
Make moves that group the same color together, so you can eliminate them. Groups of different colours will cause a build up of blocks you cannot move.
Bombs set off chain reactions. Use the bombs when you can to destroy clusters of blocks and set off the other bombs in the area. Hopefully this will lead to a lot of blocks being destroyed.
Gold Stars
In order to perfect each level you will need to earn 3 Gold Stars. You can check your progress on this at the top right corner of the screen.