Each time a new game is started, the galaxy map is randomly generated with different contents in each sector and different factions. This feature allows for each game to be unique with new experiences and unpredictable events due to the new political climate.
Love your currently galaxy, well that's great! Saving a galaxy, the player can choose to start a new game with the same galaxy and a new captain.
Factions
In Kinetic Void the galaxy is a living, breathing thing, where not all its residents get along. As players interact with different factions, and they interact with each other, agreements and treaties can be made and broken, trade can be made, while combat and piracy will affect how they see each other and the player.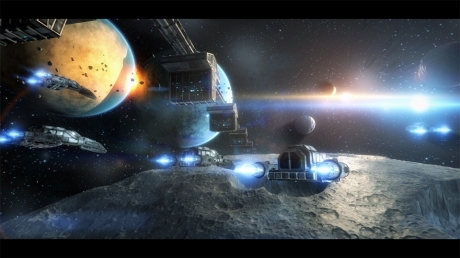 The Shipyard
The major feature in Kinetic Void is the ability to customize your own ship by selecting and attaching different parts and even changing the color. This allows the player to create their idea ship, whether it be a massive cargo ship or an ships built for speed and battle.
Although a lot is cosmetic look, each module has it's own stats that need to taken into consideration when building your ship.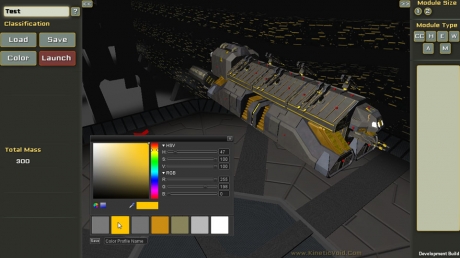 Construction modules include the following types:
Cockpit / Bridge
Reactors
Engines
Targeting Systems
Weapon Systems (Ballistic, Energy, Explosive)
Cargo
Life Support
Crew Modules
Communications
Hull Sections
Aesthetics
Controlling your Ship
Kinetic Void offers two control modes:
Cursor Mode
Control the ship through keyboard commands, and pan the camera with the mouse in any direction for quick tactical overview. This is similar to the controls found in games such as Star Trek Online.
Mouse Flight Mode
Control of the ship through mouse movements and use the keyboard to strife vertically and horizontally. Control your battleship's turrets from a sweeping orbital camera or slip between asteroids in a dogfight while piloting your heavy-fighter using mouse flight mode.
Switch between modes at any time to best suit the situation is the key to mastering the universe.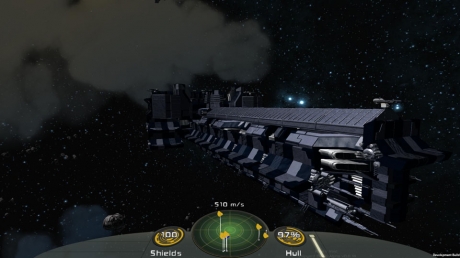 While in space flight, interactions between objects are governed by the physics engine. Running into an asteroid at high speed will damage your ship and could send you careening off into space.
Combat & Career Choices
The player can choose what life they want to lead in their own universe and how they interact with the factions around them. A life of combat and struggle not your thing? Become an intergalactic trader and influence the galaxy one deal at a time. Not interested in being a 'good guy'? Take on a life of piracy and plunder your way through sectors creating havoc wherever you go, docking at pirate stations for supplies and crew as needed.
In order to engage in combat and fight enemy ships, the player's piloting skills are just as important as the components that make up your ship. Target enemy ships and maneuver in real time to align devastating broad-sides or crippling strafing runs.
Since each module can be destroyed individually, the ship can be left drifting in the universe when the engines are destroyed and power can be knocked out by destroying the reactor.