Banished is a city-building strategy game where you take lead of a group of exiled people who decide to start their lives over by building a city in the middle of the nature. The goal of the game is to take your people and make them flourish into a thriving community.
Survival
Surviving in the raw nature is a challenge of great difficulty. Your townspeople must tailor their clothes, hunt for food, gather woods to build houses, plant trees and much more. Cutting the woods in a certain area will make animals run into other areas, planting more trees will richen the area and make more animals appear, establishing a balance between human and nature.
Agriculture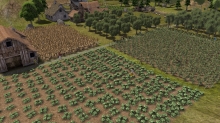 Your people need food to survive, so you must establish a good source of fruits, milk, bread, cheese, etc.
Buildings
Some buildings, like the Tavern, require basic resources like Plums to produce alcoholic drinks. You can assign different amounts of people between fishing, farming, hunting and more to assure a good income.
Evolution
Your people represent your primary resource and you must keep them happy and well-fed as they are born, grow older and eventually die. Because your new community is ripped-off the society, there is no money. All the economy is based on the resources you gathered. To make your town prosper, all you have to do is properly manage your people, risks and resources.
Trade Routes
Your resources can be traded with merchants to improve your economy. Merchants are essential to adding crops and livestock to the people's diet. The risk is that the merchants can bring diseases when coming from abroad so act with caution.
Occupations
Your people can pick one of the twenty occupations and start contributing to the town's evolution. Jobs range from hunting and hunting to blacksmithing, healing, teaching or mining.
Every location is different so you must adjust and redirect your workflow to the areas demanded by the environment. Some resources can be found easier in one location and harder on another. Natural!