Hometown Story is a role-playing simulation game where you join a world full of joy and live the story of a unique character that you create. You will take over your grandmother's old shop and you must build it from ground up in order to start an efficient business.
Character Creation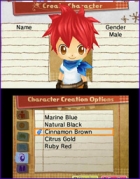 As you start a new game, you must create a new unique character that will represent you in-game. There's a bunch of hairstyles, colors, clothes and outfits from which you can pick to customize your toon. These customization options can increase if you sell fashion magazines in the game.
Your character can hold items in his/her inventory and collect materials, craft and interact with the world.
Shop
Your initial goal is to grow your shop by maximizing profits, attracting more customers and developing your own social world. The shop can be filled with items like furniture and decorations which will make it feel like home. The more you sell, the more people will come to your shop. You can expand your shop, allowing you to sell more items.
Items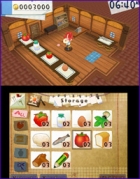 Some items can be traded with other characters or bought from vendors while others can only be found by exploring the world. The village economy will grow and you will meet lots of people. As you are the shop owner, you can set your own prices but you must establish a balance in order to have many customers and make a good profit.
Stats
A dedicated menu called "Ledger Book" allows you to check your earnings, expenses, balance, items sold, customers, types of items sold and more.
Villagers
As you progress through the game and meet new characters, you will get to personally know each one of them. Interacting with the villagers results into getting to know their stories and quests. You can also strengthen your relationship with them by selling them the right items.
The questline is not linear and the way you interact with people will define which one of the many different endings will you get to.