Here are some of our tips to help you win battles and build your kingdom.
Always Send the Maximum Troops
Troops that do not die during a battle return to your army camp and be useable for your next fight. Dont try to be efficient in your approach, use all your troops to make sure you have the best chance of winning every battle. Make sure to always upgrade your army camp so that you can get the maximum amount of troops for deployment.
Upgrade Gold Vault and Gold Mine
Because troops regenerate, you will find yourself using a whole lot more gold than you do mana. Upgrade your gold vault and gold mine faster than your mana vault and mana mill and even these resources out. Once you progress more in the game, usage of these two resources should even itself out through unlocking more troops in the army camp.
Use Gems Carefully
It may be best to save gems for later in the game, when your waiting times will be much higher. However, if you find yourself in need of gems, one easy way to get some is by sharing the game with friends. Click on the prize icon at the top left corner of the screen, below your might counter and honour badges. Click this and you will be rewarded with 100 free treasures.
Lay out Buildings Strategically
Keep your gold and mana building, alongside your town hall as close to the center as possible, as they are the most important buildings. Do the same with your army camp and keep it filled with troops, as if you are attacked these troops will come out and defend your town from the center. Place buildings close together, making them a lot easier to defend and place bombs around. It also means you can surround your building with walls more easily.
Fight in the Arena
Bare in mind this will mean you have to be able to fight well, but doing so is a great way to earn Honour Badges and Hero Shards. Your aim is to protect your crystal whilst seeking to destroy your opponenets. There are 3 places you can place your heroes and no limit to the number in any given location, so once you are aware of your opponents capabilities, prepare your defence accordingly.
Level up your Heroes
Sending heroes into standard battles allows them to level up. You can use Honour Badges and Gems to get more heroes, with HB's buying you the more worthless heroes and gems aquiring you good fighting heroes.
Increase Heroes Star Rating
At level 20, you are able to go to the heroes altar and increase heroes star rating. This is a great way to gain an advantage over oponents, as it allows your heroes to continue leveling up. You will, however, require Honour Badges, gold and a good number of defeated dungeons in order to utilise the Heroes Altar.
Assess your Opponent
The most dangerous camps are those which have more army camps than you of which are loaded with troops. Avoid these by spending gold to move on to the next player who may be easier to defeat.
Strategize!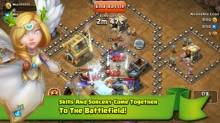 Once you unlock a few new troops, you will be able to strategize much more effectively.
Treants are a great way to distract a defensive tower, as you send in attackers such as Hunters and Pyromancers to destroy everything else. Guardians are cheap and dont take up much housing space, but can still be very effective through sending in large numbers to 'zergrush' enemy bases.
Build an Arena ASAP
Honour badges are collected just by the existence of an arena, making them a very useful asset. In the beginning you earn 50 Honour Badges per hour, but this can be increased through increasing your rank in the arena. Good wins can ensure you are earning hundreds of Honour Badges per hour.
Use Heroes Wisely
You can only have 5 heroes at a time in arena battles. Choose the ones with the highest rarity level for the best chance of winning and spread them evenly throughout your defence, leaving no obvious weak points.
Replay Opponents and Attack their Weaknesses
Have a go at challenging the same player again, and remember how their defence was set up. Remember their heroes positions on the battlefield and find any weaknesses. If, for examply, they had put all their heroes in one spot, put all of your heroes in that same spot. If you have one hero of which is particularly strong, line him up against some of the opponents weaker heroes, allowing your other 4 to battle at a man advantage.
Upgrade your Town Hall
Usually the player with the biggest army prevails in normal battles. Upgrading your town hall as much as possible allows you to continuously increase the number of army bases and hero camps you can put in your base, and invade your opponents with the largest army possible.
Know your troops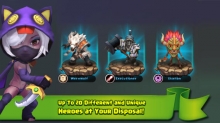 Your main troops should be considered as your short and long range base attackers, such as Guardians (Short) and Archers (Long). Treants are like tank troops and target opponent defence towers. Pyromancers and other magicians have low health but can do great damage from long range. Combine all these troops into a strategy and you will be difficult to beat.
You could, for example, send in tank troops to distract enemy bases, then send in main troops such as Guardians and Archers as the bulk of your army. Back these troops up with long range attacks from Pyromancers and other magicians and provide cover from a distance.