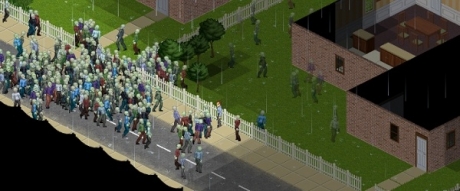 Project Zomboid is a survival, simulation game. That, of course, means that the aim is to survive as long as possible in an undead-infested Knox County. The difficult part is that you have to manage your avatar's hunger, fatigue, pain and sanity in order to stay alive.
You must scavenge during the day to find supplies and then at night must find shelter. Only by doing this do you have a chance to live another day. Thankfully, the zombies are rotting and old, so they move extremely slowly, however some zombies move faster than others.
Game Modes
You're given the option to pick between two different game modes.
Till Death do us Part
The single player 'campaign', "Till death do us part", acts as an extended tutorial rather than the actual core game.
Sandbox Mode
Sandbox mode is the game's full-on, zombie survival mode.
Sandbox allows you to create a character that has neither missions nor guidance. His only real mission is to survive. But eventually, death will come for you.
Sandbox mode allows you to customise the Project Zomboid experience to your own tastes (see image to the right above), including:
Zombie Population
Zombie Distribution
Survivors
Length of Day
Starting Month
Starting Time
Length Before Water and Electricity Shut-off
Rarity of Loot
Zombie 'Lore' (i.e. what type of zombies feature in your game)
Character Customization
When creating a character the player must choose a profession. Each profession has its own benefits and drawbacks. For example, if you choose a construction worker, your character will obviously be better at reinforcing a shelter.
As you can see from the image on the left, your perks will affect how well your character reacts in certain situations.
As well as perks, your character also has traits. Each trait has points assigned to it. These points either create a positive or negative number, which means that the selected trait is either a good one or a bad one. The Character begins with 0 points in all traits, therefore you are required to negate points from your selection of traits to make up for your character's weaknesses.
The image above is an example of the character customisation available in Project Zomboid. As you can see you are able to manipulate numerous aspects of your characters. Every option you choose in game, besides your character's appearance, will affect your play style during that particular play through.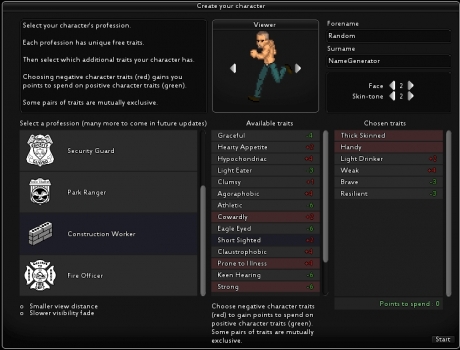 Gameplay
Modding Support
Project Zomboid offers support for modding. Is the game not challenging or exciting enough for you? Hop on down to ProjectZomboid.com and download a couple of mods to keep the game going!
Epic Exploration

Project Zomboid offers huge exploration. To survive you're going to have to explore every gap in Project Zomboid's ever growing map. Where will you make your final stand against the undead?
Crafting
Players are able to make use of anything they scavenge from houses. Something as simple as a plank of wood is a very useful tool as you are able to board up your home, strengthening your shelter's defence. You are also able to create weapons, a simple example being a molotov cocktail - a good tool for killing a large amount of zombies at once. Crafting is a skill that will help you survive.
Planned Features
Project Zomboid is an ongoing video game project. The game will continue to evolve, with new features constantly being added. Future patches will bring the following features, among others:
The chance of being infected. Will you die like a hero? Or die from infection with your friend's last sight being your flesh-hungering eyes?

Find other survivors who you'll be able to ally with in an attempt to survive in the harsh conditions of Knox County.

Salvage anything you can and use it to survive. Will you reinforce your shelter? Will you go looking for food? Is your friend in need of medical supplies? Or do you need a cheeky swig of whisky to help the nights go by?

Extensive crafting system - you'll be given the ability to craft anything into a weapon or trap to keep your friends safe.

Deeper character progression. Learn skills and perks to make life easier in Knox County.

Emotions! There's more than just fighting the undead to Project Zomboid. Having to deal with your own emotions is going to be key (starvation, illness, loneliness, depression alcoholism, drug addiction, suicide, insanity, and trust issues will all feature)

Cooperative play, so you and your friends can tackle the Zomboid world together.

Difficulty scaling. The longer you survive, the harder the game becomes, with possible events such as power plants failing and even the army rolling in to "clean" up the mess taking place.

Storylines. The story-based tutorial will be expanded, and other new storylines will be added to the game.