Welcome to the Hard Time Prison Sim Cheats and Codes and Tips page where our team of contributors will help you with a set of cheats, codes, hints, tips and unlockables.
If you are stuck on something specific and are unable to find any answers on our Hard Time Prison Sim Cheats page then be sure to ask the Hard Time Prison Sim Forum / Community for help and advice in the discussion box below and they will get back to you as soon as possible with an answer!
Tips and Strategies
Important Stats
How to Increase your Strength
Getting into more fights, or lifting heavy things will improve your strength. Go to the exercise yard, pick up a weight and then press T to start lifting it.
How to Improve your Agility
Agility is improved by running and climbing on things.
How to Increase your Intelligence
To improve your intellect read or play musical instruments. You can also learn new things from others in the prison.
How to Gain Respect
Your reputation is earned by fighting (and obviously winning), riding motorcycles and running people over, and picking up weapons and attacking people with them (particularly wardens).
Balancing Your Stats
Agility and Strength work in balance with each other. Anything that increases your Strength will decrease your Agility. You have to find a good balance between increasing your Strength and increasing your Agility in order to achieve perfection. The same goes with Reputation and Intelligence. Anything that increases your Intelligence will decrease your Reputation.
Make sure to use alcohol and cigarettes sparingly. If you drink any alcoholic drink, your brainpower will increase rapidly, but your energy will decrease, your strength and intelligence will also decrease. The same rule applies with cigarettes. Neither one is to be used as a substitute for sleeping and eating.
Basic Needs
Keep a track of your basic needs such as going to the bathroom, eating, energy refills and sleep.
If you fail to go to the bathroom you will soil your pants and this will have a dramatic effect on your reputation bar. If your energy bar runs out you will fall asleep in the middle of the floor and if your brainpower drops to the bottom your character will flip out and start attacking everyone.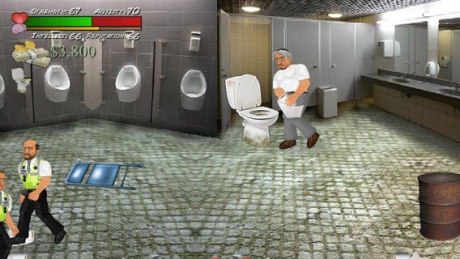 Food also plays a vital part when it comes to keeping up your Strength in the prison. You can find food in different areas of the prison, but your best to stick to the mess hall. Don't overdo it though. If you eat too much, you'll throw up, taking away a bit of your Strength and leaving a tremendous dent in your Reputation.
Amongst the other changes that have come from the latest update, you can now urinate or poop somewhere other than the toilet. Not only will it affect your reputation, but now you can also get arrested and charged with a crime if you get caught. Get to the bathroom in time when your character needs to go.
Combat Basics
There are five different buttons in total, and each one serves a different function. A is attack, G is grab (or throw), R is run, P is pick-up or drop (if you are holding anything) and T is taunt. Becareful when using taunt as your opponent may become extremely angry- whoops.
Using your fists whilst fighting does get the job done but with a weapon in your hand it is much easier. A long baseball bat will let you take out enemies very quickly.
If you are finding it difficult to get hold of a weapon then try to mix up your fighting techniques. There are different moves available, such as tha chargeable super attack that can lay an enemy out flat if you use it at the right time. Jusy try not to do it when you are surrounded- you will need to save as much strength as you can for these battles.
Prison Break!
To break out of prison make your way to the exercise yard then run towards the fence. When you get close you will climb the fence. Hold the run button to climb all the way to the top and then press it again to jump off on the other side. Once there avoid anyone who looks like a cop. They will catch you and you will be sent straight back to prison if they find you guilty.
Gangs
If you mess with prisoners who are part of a gang you will have the entire gang out to get you. You are likely to get targeted or even killed. However, if you emerge victorious against the gang you will get a massive boost in reputation.
Making Money
The easiest way to make money is at the workshop. With the latest update you fix a piece of broken furniture or another piece of broken equiptment will earn you money. In order to fix something simply pick it up and place it back down. Sometimes, you can fix something and it breaks again when you put it down, allowing you to fix it all over again, earning money a second time.
Additionally, inmates will randomly try to buy items you are carrying around with you. Contraband tends to be worth more, such as alcohol, cigarettes, or guns. They will also offer to buy brooms and other ordinary equiptment.