Welcome to the Blocky Roads Cheats and Codes and Tips page where our team of contributors will help you with a set of cheats, codes, hints, tips and unlockables.
If you are stuck on something specific and are unable to find any answers on our Blocky Roads Cheats page then be sure to ask the Blocky Roads Forum / Community for help and advice in the discussion box below and they will get back to you as soon as possible with an answer!
Tips and Strategies
Don't Flip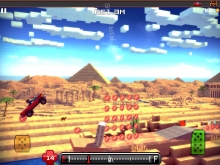 It can be very easy to send your car flipping over forwards when landing after a jump. So, as you come in to land make sure you apply a little braking so that your vehicle stabilizes. Flipping occurs particularly after an upgrade that increases your power.
Try to maintain a balance between speeding up to tackle those hills and breaking to gather up as many coins as possible. Speed will only get you so far, but coins are useful to spend on upgrades to your car.
Updrade your Starter
You should get a few updates for your starter car in the first few levels of the game. Don't max it out completely, as better cars will be available further down the line, but get your car's performance to a point where you can pick up a decent chunk of coins on each run.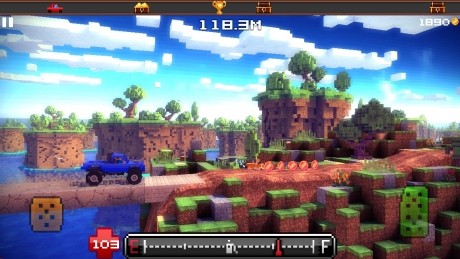 If you are finding yourself flipping over after a big leap, consider increasing your suspension stats. These updates will take a little bit of the wobble out of your journey and can really make a difference when it comes to those hills and allows you to pass them quicker than before.
If you improve your chasis stat you can survive more knocks before exploding and it will be able to leap much further through the air, which is great for conserving fuel.
Fuel Up
You have very limited amounts of fuel in Block Roads, so keep an eye on your fuel meter and not just hold down the gas pedal constantly. You can, however, apply an upgrade to your car which would allow you to have a larger engine and carry more fuel. As a bonus, upgrading your vehicle's engine will make it easier to climb up steep hills.
New Vehicles
Head to the Garage section of the farm and you can browse through new vehicles that are available in the game. Pay particular attention to the different stats of each car, checking often as you progress through the levels and unlock more cars.
Need More Coins?
If you are after more coins, it is recommended that you go back to the first levels and recycle the coins found there, as these will be much easier to play than initially. You should also be able to gather coins that you initially found hard to pass over.