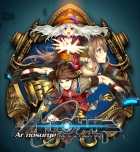 Ar Nosurge: Ode to an Unborn Star is a Japanese role-playing game developed by Gust for the PlayStation 3. This game was released on September 26 in Europe and September 23 in the US. The game is a continuation of Ciel Nosurge: Ushinawareta Hoshi e Sasagu Uta, as well as a prequel to the Ar tonelico series of games.
The story unfolds through the experiences of interchanging protagonists. Delta and Casty fight to protect humanity against the Sharl, a mysterious new life for that has suddenly appeared and begun abducting the people of Orei. The second party, Earthes and Ion, fight under the belief that humans and the Sharl should be able to coexist.
Ar Nosurge: Ode to an Unborn Star Brainwaves
7th May, 0 replies

Koei Tecmo teased a new localization yesterday on Twitter. Many assumed it would be for Ar nosurge Plus:...
Share Ar Nosurge: Ode to an Unborn Star with others
Ar Nosurge: Ode to an Unborn Star