Welcome to the Ironpants Cheats and Codes page where our team of contributors will help you with a set of cheats, codes, hints, hacks, tips and unlockables.
If you are stuck on something specific and are unable to find any answers on our Ironpants Cheats page then be sure to ask the Ironpants Forum / Community for help and advice in the discussion box below and they will get back to you as soon as possible with an answer!
Tips and Strategies
Don't Obscure Your Vision
Whether you're right or left-handed, keep your finger at the bottom of the screen when you play. The larger the screen size of your device, the better.
Learn the Controls & Find a Rhythm
The first thing you'll want to do if to learn the controls. Holding your finger down on the screen will have Ironpants fly upward, while removing it will cause him to fall downward.
Find a rhythm with quick and delicate taps for better control over his flight. Don't worry about high scores to start with and simply practice so you can get them later.
Stick to the Center of the Screen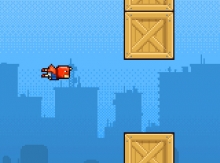 It's not about avoiding the crates, it's about aiming for the gaps. Focus on Ironpants and concentrate on positioning him rather than worrying about smashing into the next stack of crates.
Keeping your superhero positioned as close to the center as possible gives you more time and space to position yourself to get through those gaps.
Keep Your Cool
Like Flappy Bird and similar games, the more frustrated you become while playing Ironpants, the harder it will be to succeed. Even the most practiced players can crash often. Know when to take a break, calm down, give your hand and your phone or tablet a rest, then try again later.