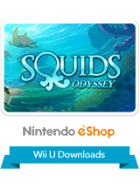 Squids Odyssey is an action game developed by The Game Bakers and released on Nintendo 3DS, Wii U. Squids Odyssey is a unique mix of action strategy and RPG: build your team of Squid heroes for epic turn-based battles against corrupted crabs and shrimps!
Steev, Vahine and the rest of the Squids are in danger! An infectious black ooze is corrupting their world. The band of unlikely heroes need to fight back to save their lush underwater kingdoms.
Squids Odyssey Brainwaves
30th June, 0 replies

When Nintendo made each Nintendo Network user create a new ID, it was to ensure cross-compatibility between...
Share Squids Odyssey with others