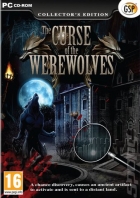 The Curse of the Werewolves is an adventure game developed by Nordcurrent and released on Mac OS, Microsoft Windows. Welcome to the Curse of the Werewolves - a hidden object adventure game with blood-chilling visuals and an enthralling storyline. Delve into the dark story of Ashley and help her unravel this blood-chilling adventure. Out of the blue, Ashley receives a strange postcard from her grandmother, who lives in Maine on the coast of the Atlantic Ocean. Ashley tries to contact her, but the phone went unanswered, which was completely out of character for her grandma. Baffled and troubled by these strange events, Ashley travels to her family's old manor, only to find her favorite childhood place deserted and neglected. It is up to you to help Ashley unravel the secrets behind her grandmother's disappearance and save her from the looming threat of the ancient curse.
The Curse of the Werewolves Brainwaves
1st June, 0 replies

I am stuck at the mini game in the beginning if the mansion. I got the clock but not the dog statue....
Share The Curse of the Werewolves with others
The Curse of the Werewolves