Frozen: Olaf's Quest is a single-player 2D platformer.
Basic Gameplay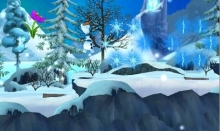 The player controls Olaf, with the goal of traversing sixty 2D levels. Pressing A will make Olaf jump. Pressing A again will make him double jump. Holding A in the air will let him hover. He will encounter small piles, made up of things such as snow or dandelions. Pressing down in midair performs a ground pount. If he does this on top of a pile, it will burst, revealing collectibles.
Some platforms contains bounce pads, which will launch Olaf into the air. Others contains spikes, which will hurt Olaf if he lands on them. Whirlwinds will make him float along a path in midair. Pressing B and the directional pad will allow Olaf to throw his head in any direction. This allows him to reach far off collectibles. The head automatically returns afterward.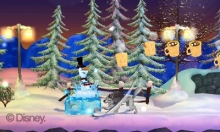 Olaf will sometimes encounter enemies such as wolves. These enemies can be stunned by throwing Olaf's head at them. Certain levels will automatically scroll toward the right, tasking Olaf with keeping up with the stage without falling. Some paths are icy, and will make Olaf roll into a snowball, protecting him from enemies and hazards.
Collectibles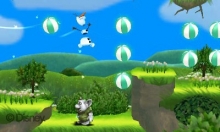 Each level, Olaf has the possibility of achieving three stars. The first star is achieved by reaching the endpost. The second star is acheived by collecting the three hidden flowers in every level. The third star is achieved by collecting all of another collectible, which fills the level. The other collectible may be snowflakes, tea, carrots, hot chocolate, or balls.
Collecting enough stars unlocks clothing that Olaf can equip. The player can unlock a variety of hats, scarves and gloves. These change Olaf's appearance, but have no effect on gameplay.