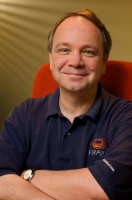 Sid Meier is a video game designer who currently works for Firaxis Games. He is one of the most recognized video game producers and is the creator of the Civilization series. In 1982 he co-founded MicroProse which created a variety of games, including flight and military simulators. In 1987 Meier released his first hit, Sid Meier's Pirates!. From there, he would eventually go on to create the first game in what would be a highly successful franchise, Civilization. In 1996 he left MicroProse to form his own company, Firaxis Games, which specializes in strategy games.
Sid Meier Brainwaves
3rd July, 0 replies

Civilization: Beyond Earth, the latest entry in Sid Meier's Civilization series, has been given a release...

12th April, 0 replies

Earlier today, 2K Games announced via a teaser trailer the latest entry in the classic turn-based strategy...

5th February, 0 replies

If you are a somewhat avid PC gamer then the name Sid Meier should ring a bell,. For those who aren't,...
Share Sid Meier with others