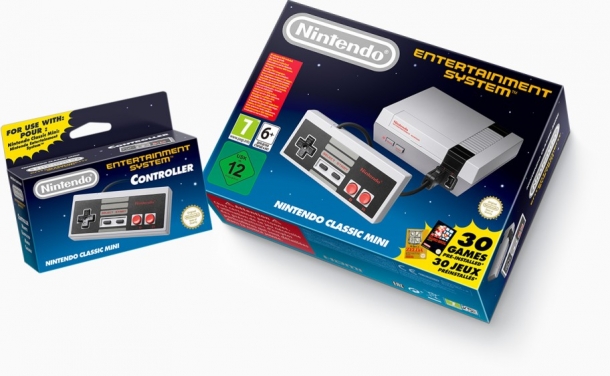 Nintendo has announced that it will be releasing an official Mini NES system this November.

"The classic NES is back in a familiar-yet-new form as a mini replica of Nintendo's original home console. Plugging directly into a high-definition TV using the included HDMI cable, the console comes complete with 30 NES games built-in.

The Nintendo Classic Mini: Nintendo Entertainment System comes packaged with an HDMI cable, a USB cable for powering the system, and one Nintendo Classic Mini: NES Controller.

Players can even enjoy playing many of these games together by attaching a second Nintendo Classic Mini: NES Controller, sold separately. A Classic Controller or Classic Controller Pro for the Wii console can also be used. The Nintendo Classic Mini: NES Controller can also be used to play Virtual Console NES games on a Wii U or Wii console."

The 30 games that come built-in are as follows:

Balloon Fight
Bubble Bobble
Castlevania
Castlevania 2: Simon's Quest
Donkey Kong
Donkey Kong Jr.
Double Dragon 2: The Revenge
Dr. Mario
Excitebike
Final Fantasy
Galaga
Ghosts 'n' Goblins
Gradius
Ice Climber
Kid Icarus
Kirby's Adventure
Mario Bros.
Mega Man 2
Metroid
Ninja Gaiden
Pac-Man
Punch-Out!! Featuring Mr. Dream
StarTropics
Super C
Super Mario Bros.
Super Mario Bros. 2
Super Mario Bros. 3
Tecmo Bowl
The Legend of Zelda
Zelda 2: The Adventure of Link

The Mini NES launches on November 11th in North America and Europe.
Trending Articles
17th February

Dragon Ball Z: Extreme Butoden has apparently been announced in the latest edition of V Jump magazine in Japan. It is a 2D fighter and will be released...

16th October

Pokemon X & Y released worldwide on Saturday to the joy of millions - 4 million of whom purchased the game within the first two days. However, some of...

28th November

These are some tips and/or tricks that almost everyone can use for Glory of Generals. 1. Upgrade your Commander first. The Commander is very important...

2nd February

World Series Of Poker Hack can generate unlimited Chips and Cash. http://tricksgamesonline.com/2017/02/02/world-series-poker-hack-chips-generator/ http://tricksgamesonline.com/2017/02/02/world-series-poker-hack-chips-generator/ About...

4th February

Borderlands 2 has some of the most enjoyable writing of a game released this generation, thanks to lead writer Anthony Burch (Hey Ash, Whatcha Playin'?)....