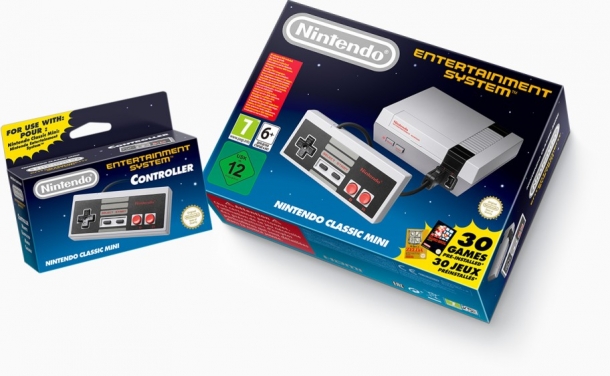 Nintendo has announced that it will be releasing an official Mini NES system this November.

"The classic NES is back in a familiar-yet-new form as a mini replica of Nintendo's original home console. Plugging directly into a high-definition TV using the included HDMI cable, the console comes complete with 30 NES games built-in.

The Nintendo Classic Mini: Nintendo Entertainment System comes packaged with an HDMI cable, a USB cable for powering the system, and one Nintendo Classic Mini: NES Controller.

Players can even enjoy playing many of these games together by attaching a second Nintendo Classic Mini: NES Controller, sold separately. A Classic Controller or Classic Controller Pro for the Wii console can also be used. The Nintendo Classic Mini: NES Controller can also be used to play Virtual Console NES games on a Wii U or Wii console."

The 30 games that come built-in are as follows:

Balloon Fight
Bubble Bobble
Castlevania
Castlevania 2: Simon's Quest
Donkey Kong
Donkey Kong Jr.
Double Dragon 2: The Revenge
Dr. Mario
Excitebike
Final Fantasy
Galaga
Ghosts 'n' Goblins
Gradius
Ice Climber
Kid Icarus
Kirby's Adventure
Mario Bros.
Mega Man 2
Metroid
Ninja Gaiden
Pac-Man
Punch-Out!! Featuring Mr. Dream
StarTropics
Super C
Super Mario Bros.
Super Mario Bros. 2
Super Mario Bros. 3
Tecmo Bowl
The Legend of Zelda
Zelda 2: The Adventure of Link

The Mini NES launches on November 11th in North America and Europe.
Related Brainwaves
29th November

Sony recently announced lifetime shipment figures for the PlayStation 4 have surpassed 102.8 million units as of September 30, 2019. That puts shipment...

26th August

Despite the many post apocalyptic open-world games available today, I'm yet to play one inspired by kung-fu movies. Enter Experiment 101's Biomutant, a...